In this article, we'll be looking at FUOYE Hostel Pictures. Many aspiring students have been curious to know what the school hostel looks like, so this article contains all the necessary information you may need.
While this article is primarily centered on providing pictures of FUOYE Hostel, we'll also look at the types of hostels at FUOYE and their prices, among other essential information.
But before that, let's look at a brief history of the institution. We'll explore its location and other relevant details to help aspiring students gain adequate knowledge about this institution.
About Federal University Oye Ekiti, FUOYE
Federal University Oye Ekiti (FUOYE) is a government-owned Nigerian university with campuses in Oye-Ekiti and Ikole-Ekiti. Established in 2011, it is one of the federal universities in Nigeria, founded during the tenure of President Goodluck Jonathan. The university aims to be a leading institution known for providing opportunities for student success, regional and global resource for entrepreneurial education, and for integrating cutting-edge technology into research.
FUOYE offers undergraduate programs in various fields, including Agriculture, Arts, Law, Management Sciences, Social Sciences, Engineering, Education, Pharmacy, College Of Medicine, and Sciences. The university has twelve faculties and a school of postgraduate studies. It has made significant progress since its establishment, with its first graduating class in 2015 and its maiden convocation in April 2017.
The institution has two campuses, Oye-Ekiti and Ikole-Ekiti, and is currently led by Vice-Chancellor Professor A.S Fasina. With a student population of over 43,000 and over 58 departments, FUOYE plays a crucial role in providing higher education and fostering innovation and character for national transformation.
Pictures of FUOYE Hostels
Federal University Oye-Ekiti (FUOYE) provides hostel accommodations for its students, and these hostels play a crucial role in the university's campus life. The university has several hostels to cater to the housing needs of its students, with a variety of options available.
Students can apply for hostel accommodation on a session-by-session basis, and it's essential to meet your school fee obligations to be eligible for reapplication.
Hostel life at FUOYE can be a significant part of the overall student experience, offering convenience and a sense of community. These accommodations are an integral part of the university's commitment to providing students with a comfortable and secure living environment while pursuing their academic goals.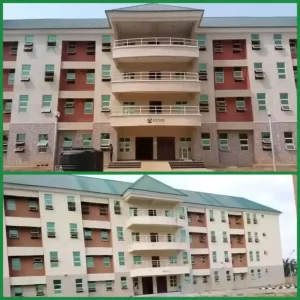 It's important to note that hostels at Federal University Oye-Ekiti (FUOYE) typically provide essential amenities such as electricity, water supply, and other basic utilities. These services contribute to a comfortable and conducive living environment for students. Access to reliable electricity and water is crucial for the daily needs of students and enhances the overall quality of hostel life at the university. FUOYE strives to ensure that its hostels are equipped with these essential utilities to support the well-being and convenience of its residents.
FUOYE Hostel Fees
The hostel fees at Federal University Oye-Ekiti are presently set at N100,000. This represents a recent increase from the previous rate of N50,000.
What You Should Know About FUOYE Hostel
At Federal University Oye-Ekiti (FUOYE) hostels, it's important to note that you need to reapply for accommodation every session, as your hostel fee covers one session only. Students are required to vacate the hostels at the end of each session, and securing a space for the next session is not guaranteed, making it essential to meet your school fee obligations to be eligible to reapply.
The number of occupants per room in the school hostels can vary, with higher-quality hostels accommodating fewer students, possibly less than five per room. In general, you can expect to find between 6 to 10 ppeoplesharing a room in the hostels at FUOYE. Some of the specific hostels at the university include Felicia Hostel, Oye Hostel, Ikole Hostel, among others. This information is crucial for students considering accommodation options at FUOYE.
FUOYE Hostel Fees Payment And Registration Procedure
The procedure for payment and registration of hostel accommodation fees at Federal University Oye-Ekiti (FUOYE) involves several steps. First, students need to fill out a hostel accommodation request form either at the Student Affairs office or by downloading it from the University Portal. The filled form should then be submitted to the Student Affairs Officer.
After submitting the form, students should collect an authorization to pay for the form from the Student Affairs Office. Following this, they are required to obtain a bank draft from any commercial bank in favor of Federal University Oye Ekiti for the hostel fee, which is set at N100,000. This bank draft must be obtained within two days of receiving the authority to pay.
Once the bank draft is secured, it should be taken to the Bursary for conversion into a receipt. Subsequently, students need to bring the bursary receipt to collect the Hostel Accommodation form and two copies of the Hostel Eligibility form (HEF) at the Student Affairs Office. One copy of the HEF is submitted to the University security Unit, and the second copy is acknowledged by the Security Unit.
Students must then submit the second acknowledged HEF along with the Hostel Accommodation form to the Student Affairs Division for the allocation of a bed space, collection of a room key, and receipt of a code of conduct. Finally, they should proceed to the hostel and report to the Hostel supervisors for further formalities before being accommodated. It's important to remember that the HEF, filled out as per the security unit's instructions, empowers the Hostel Management Committee to take action, including eviction, in the event of security threats or other issues. This detailed procedure ensures a systematic and secure process for hostel accommodation registration at FUOYE.