In this article, we'll be exploring images of the AFIT Hostel. If you're an aspiring student of this institution and curious about the hostel's appearance, this article is tailored for you.
While the main focus is on showcasing pictures of the AFIT Hostel, the article also provides additional relevant information about the institution. This includes details about its history, location, academic programs, types of hostels available, accommodation prices, and more. The aim is to ensure aspiring students have comprehensive knowledge about this institution.
About AFIT
The Air Force Institute of Technology (AFIT), also known as the Nigeria Air Force University, is a military school located in Kaduna State, Northern Nigeria. Established in 1977 as the NAF Technical and Supply School, it underwent several transformations, eventually becoming AFIT in 2008 and obtaining university status in 2018.
Initially founded to address the need for skilled manpower in operating and maintaining aircraft and weapon systems introduced during the Nigerian Civil War, AFIT has evolved to offer undergraduate and postgraduate courses in Aeronautics, aerospace engineering, mechatronics engineering, and avionics. The institution supports both the Nigerian Air Force (NAF) and civilian communities.
AFIT comprises five faculties—Air Engineering, Computing, Ground and Communication Engineering, Social and Management Sciences, and Faculty of Sciences. Additionally, it has a School of Postgraduate Studies. The curricula are structured to meet the minimum requirements for an MSc in the aerospace sector.
Over the years, AFIT has graduated over 5,689 individuals, including personnel from the Nigerian Army, Nigerian Navy, and NAF, as well as civilians. The institution has also welcomed students from friendly African countries such as the Benin Republic, Ghana, Niger, Sierra Leone, and Zimbabwe.
The transformation of AFIT into a university was facilitated by the Chief of the Air Staff, Air Marshal SB Abubakar, with the aim of repositioning the NAF into a highly professional and disciplined force through capacity-building initiatives. The university status was granted in 2018, allowing AFIT to offer degree programs. This milestone reflects AFIT's commitment to providing high-quality aerospace and aeronautical training, positioning itself as a center of excellence in the field.
Pictures of AFIT Hostel
AFIT Hostel provides a comfortable and conducive living environment for students, offering separate accommodations for both male and female residents. The facilities include essential amenities like electricity, water, and robust security measures to ensure a safe living space.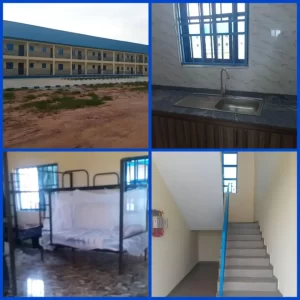 The hostel options at AFIT cater to different preferences and budgets. The VIP Hostel stands out as a premium choice with a price tag of N80,000. The Boys Hostel offers two types of accommodations: a Story Building where 20 students share a room, and a Bungalow with 10 students per room.
In addition, there are different hostels in the institution, including AFIT Hostel, NAFIL Hostel, and TETFund Hostel, among others, each with varying price ranges spanning from N25,000 to N100,000. This variety ensures that students can find a suitable residence based on their preferences and financial considerations.
Kindly note that there are On-Campus and Off-Campus hostels at AFIT, and staying in school hostels isn't compulsory. It's on a first-come, first-serve basis.
In 2020, in a bid to expand the chances of the number of air men and women that can be trained at the Air Force Institute of Technology (AFIT) in Kaduna, more blocks of hostel accommodation were added to the institution last year. Commissioned on the 21st of September 2020, the additional blocks will serve as accommodation for the female trainees of the institution, providing them with better freedom and privacy. This expansion also increases the availability of spaces for more personnel to be enrolled for training.