In this article, Students Mirror looks at John Kumuyi Biography child, age, wife, educational background, history, and other information about him.
John Kumuyi
John Kumuyi is the son of Williams Kumuyi and Abiodun Kumuyi. His father, Pastor William Kumuyi, is a renowned Nigerian clergyman who is the General Superintendent and founder of the Deeper Christian Life Ministry (DCLM), one of the biggest Pentecostal churches in Africa with branches across the globe.
John Kumuyi, originally hails from Osun State, South West, Nigeria. He was born into a family of two boys. The notable personality is the second son of his parents. The name of his older brother is Jeremiah Kumuyi.
John Kumuyi lost his mother in 2009. In 2010, his father, William Kumuyi, remarried Esther Folashade Kumuyi, who became John's stepmother. The names of his paternal grandparents are Gabriel Kumuyi Akinfenwa and Comfort Idowu Kumuyi Akinfenwa.
John Kumuyi, Jeremiah Kumuyi
John Kumuyi and his brother, Jeremiah Kumuyi, are both sons of Pastor Williams Kumuyi. The two brothers were raised by godly parents. They sang in the children's choir, later joined the youth choir, and were active in the church work till they went abroad, Femi Adesina disclosed.
John Kumuyi and Jeremiah Kumuyi were hard-working, determined and promising. They came into their own, became professionals, and have been living in the United States of America for some time.
Jerry and John Kumuyi kept their low profile, inconspicuous lifestyle, and were great ambassadors of the church of their father's church – The Deeper Christian Life Ministry.
John Kumuyi Wife
John Kumuyi got married to Love Odih, the daughter of a Deeper Christian Life Ministry member and Pastor, Mr. Odih. Her father had been State Overseer in Cross River State and also served as the National Overseer of the church in Jamaica.
John Kumuyi Wedding
On June 15 , 2013, John Kumuyi married Love Odih in Jamaica. The wedding ceremony was a beautiful one, with members of the church and relatives present. The wedding ceremony attracted widespread condemnation by members of their church. The ceremony and dress code of the groom, according to reports, were contradictory to the standard of Deeper Life doctrine, which led to the suspension of John and his wife by the church management. The church was known to operate a strict regimen on wedding ceremonies.
John Kumuyi Wedding Pictures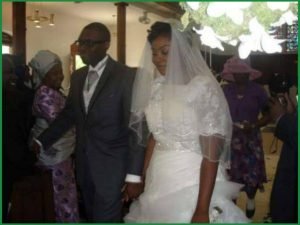 Above is a picture from John Kumuyi's wedding where the bride, decked in a flowing white gown, looks radiant alongside the groom.
John Kumuyi Child
John Kumuyi is the father of Jonathan Kumuyi. Prince Joshua Oyeniyi, a global entrepreneur, who was spotted with John Kumuyi and his wife in pictures he shared, disclosed that he met John Kumuyi alongside his wife and their son, Jonathan Kumuyi.
How old is John Kumuyi

The exact age of John Kumuyi is unknown as at the time of writing this report.
John Kumuyi Career
John Kumuyi is the Co-Founder & Chief Technology Officer at Medics2You. He is a Netsuite Technical Expert with over fifteen years of multi-industry experience. He served as Netsuite Ecommerce Implementation Consultant at Estée Lauder Companies Inc. from April 2018 to September 2019, where he implemented an e-commerce integration for a new multi-billion-dollar acquisition, using web services to manage EDI order creation, ship confirmation from warehouse, and cancellations.
At Estée Lauder Companies Inc., he also created and implemented integration for fulfilment of proprietary e-commerce ELC site from warehouse to NetSuite. etc
He worked as the Netsuite System Administrator/Developer/API Manager at MISSION from November 2015 to November 2016 in the Greater New York City Area, where he managed the transition and deployment of NetSuite from Quick Books and customized the NetSuite platform to meet the evolving needs of a $50M+ revenue sports tech start-up. He was involved in creating and customizing a vendor management system to facilitate external sales reps' placing orders directly into the company's NetSuite system without compromising access controls.
From June 2013 to October 2015, John Kumuyi served as the Netsuite Implementation Project Manager at SuiteRetail, where he implemented and tracked key metrics to analyze performance relative to customer service. He was involved in liaising between business and technology team members with customer-facing responsibilities. He also successfully managed a team of NetSuite developers and reviewed code.
From November 2005 to April 2007, Kumuyi worked as a Technical Support Specialist at the Elisabeth Haub School of Law at Pace University, where he provided Help Desk support for internal and external students and professors to resolve issues both in person and via telephone. Among others.
John Kumuyi's Educational Background
After completing his primary and secondary school, John Kumuyi proceeded to study for a Bachelor's of Arts, BA in Information Systems at Pace University in 2004. He later bagged a master's degree in information systems and security from Pace University, New York.
The information contained herein is derived from data obtained from sources believed by the author to be reliable and in good faith, but no guarantees are made regarding the accuracy, completeness, or suitability of the content, and the post may be updated from time to time without notice. For correction or suggestion, contact: [email protected]