In this article, we'll be looking at the Al-Hikmah University Hostel Pictures. If you're an aspirant to the institution and have been curious to know what the school's hostel looks like, then this article is for you.
While this article is primarily centered on providing pictures of Al-Hikmah University, we'll also look at an overview of the institution. This includes the school's history, location, vision and mission, admission requirements, hostel fees, and many others.
About Al-Hikmah University
Al-Hikmah University, located in Ilorin, Nigeria, was established in 2005 by the Abdur-Raheem Oladimeji Islamic Foundation. Initially licensed as a Conventional Private University by the Federal Government of Nigeria in January 2005, it commenced academic activities during the 2005/2006 session with 70 students across three take-off Colleges. Presently, the university boasts seven Faculties, including Humanities and Social Sciences, Management Sciences, Natural and Applied Sciences, Education, Law, Health Sciences, and Agriculture, along with a Postgraduate School.
With a diverse academic offering of 50 Undergraduate, 12 Diploma, and 43 Postgraduate Programs, Al-Hikmah University has expanded to include 12 Centres, addressing aspects such as part-time and professional studies, ICT and distance learning, Islamic heritage, research, and international cooperation. The student population, exceeding 7000, reflects the institution's commitment to academic and moral excellence, encapsulated in its motto: "Learning for Wisdom and Morality."
Accredited by the National Universities Commission (NUC), the university emphasizes a curriculum promoting both academic prowess and moral/spiritual integrity, addressing contemporary challenges faced by humanity. Al-Hikmah University aims to contribute to Nigeria's economic growth by offering admission and employment opportunities without discrimination based on political, social, religious, gender, racial, or ethnic affiliations.
Since its inception, the institution has experienced significant growth in human, physical, and material resources. Guided by a clear vision and mission, Al-Hikmah University has evolved into a dynamic force, contributing to scholarship and societal well-being.
Al-Hikmah University reflects on its steadfast commitment to its course and goals. The recent convocation marked a significant milestone, commemorating the 10th occasion of producing a cohort of students steeped in the rigorous academic tradition of the university located in Ilorin, Nigeria.
The pride in their students is evident, considering them worthy ambassadors of this esteemed institution. The conviction is strong, asserting that the university's curriculum stands on the rare foundation of Islamic philosophy, a distinctive feature not commonly found in contemporary higher learning institutions, particularly in Nigeria. This unique approach sets Al-Hikmah University apart, emphasizing a holistic education that intertwines academic excellence with the principles of Islamic philosophy. As they express gratitude for their journey thus far, the university remains dedicated to its mission of nurturing well-rounded individuals who embody both academic prowess and the values embedded in Islamic traditions.
Vision and Mission
Al-Hikmah University's vision is to lead in providing high-quality university education at an international standard. Complementing this vision, the mission is defined as striving to be an educational institution that seamlessly integrates sound academic knowledge with moral and spiritual excellence. In essence, the university aspires to stand as a beacon of both academic achievement and ethical values, emphasizing a holistic approach to education.
Pictures of Al-Hikmah University Hostel
Al-Hikmah University boasts some of Nigeria's finest hostels, providing accommodation for both male and female students. These well-maintained facilities come equipped with essential amenities such as electricity, water, spacious areas for relaxation, and laundry facilities. The hostels prioritize security, ensuring a safe environment for residents. Conveniently located in close proximity to lecture halls and other university facilities, they offer easy access for students.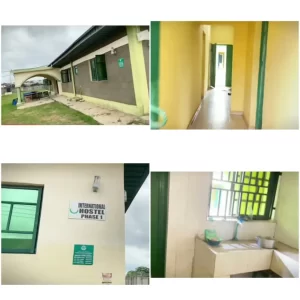 The hostels also feature on-site shops catering to students' needs, selling various items, including foodstuffs. Regular cleaning and maintenance contribute to a conducive living environment. Accommodation fees vary based on the hostel, with options like the International Hostel for girls priced at N120,000 per bed space and the Coomassie Hostel for boys at N100,000 per bed space. Other options include Wamy, Owaish, Deremi, Oladimeji, Okojie (both boys and girls), Igbaja (boys and girls), and Surulere (girls), each with a specific fee ranging from N50,000 to N100,000 per bed space. This range of options caters to the diverse preferences and needs of the university's student population.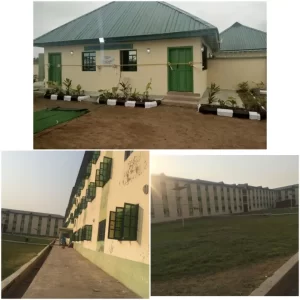 How To Apply For Al-Hikmah University Hostel
To apply for Al-Hikmah University hostel accommodation, newly admitted students can follow a straightforward process outlined below:
Make Payment: Follow the provided steps to make the necessary payment for hostel accommodation.
Documentation and Allocation: Take the payment proof (online slip) to the Student Affairs Division for documentation and hostel allocation.
It's important to note that bed space allocation operates on a 'FIRST COME FIRST SERVE BASIS,' given the limited availability of hostel accommodation. Students aiming for space in reserved halls should promptly submit their payment slip to the Student Affairs office.
Al-Hikmah University's Hostel Accommodation Policy
Al-Hikmah University has established a Hostel Accommodation Policy, this includes:
University hostel accommodation is mandatory for all new, 200 level, and final year students.
Students from other levels unable to secure University hostels must pay a Hostel Exemption Fee of N10,000.
The Student Affairs office maintains a list of approved out-of-campus options.
Students opting for out-of-campus accommodation should contact the Student Affairs Office with their hostel exemption receipt to obtain clearance/hostel pass, allowing daily campus entry.
Students are strictly prohibited from residing in any hostel or house not on the approved list.
This comprehensive policy ensures a structured approach to hostel accommodation, emphasizing compliance and facilitating smooth processes for students at Al-Hikmah University.